Skin Care Services
Should you need to change your appointment,
we kindly request 24 hours notice prior to your scheduled service.
---
As of June 18, 2020 the State Board of Cosmetology
released COVID 19 guidance for Cosmetology salons
in the green phase of re-opening.
As per their guidance, we will continue to
NOT OFFER:
Facials,
Lip & Chin Wax,
or any other service that requires the removal of the client's face mask.
---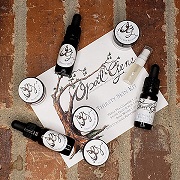 FACIAL IN A BOX!
From natural skincare company Opal Gene.

Facial in a Box Kit provides enough supplies for two DIY facials with a little extra product to enjoy for $55.

There are three kits to choose from:

Carrot and Mango Hydrating Kit: Rehydrate and infuse dry dull skin with the super anti-oxidant and moisture rich carrot and mango facial.

Pro-biotic Enzyme Kit: Bring irritated, inflamed skin into balance and harmony with healthy and strengthening probiotic.

Green Garden Pore Cleansing and Calming Kit: Soothe irritated, inflamed or acneic skin with french green clay and a proprietary blend of garden vegetables. enzymes and hydrators.

To order your kit or request a consult on the best option for your skin type:
e-mail our esthetician, Tracie Pletcher at tracie@dragonflymassages.com.
---
LIRA CLINICAL was created by four passionate skincare professionals and educators who wanted to take today's skincare to the next level. Lira utilizes topical probiotics, resin from the Greek Mastiha tree, plant stem cells, innovative peptide combinations, healing minerals and vitamin C to create a skincare line that is easily customizable for all skin types. Designed to repair, restore and brighten your skin; Lira Clinical offers next level skin care with quality products and treatments that produce real results.
DEEP CLEANSING BACK FACIAL: A gentle back treatment to help clear blemishes, blackheads and spots while helping to improve the texture and appearance of skin. Appropriate for problematic skin types as well as occasional breakouts in both adults and adolescents.
AROMATOUCH TECHNIQUE: Bring your body, mind and spirit back into balance. doTERRA certified pure therapeutic grade essential oils are applied to your spine and spread to the rest of your back and neck creating a unique way to bring balance to your life. The feet are also included in this simple, yet profoundly relaxing session. Developed by Dr. David Hill, a leading expert in integrative medicine and therapeutic applications of essential oils, the AromaTouch Technique improves well-being by reducing physical and emotional stress and supporting health immune function.
30 minutes - $60 (can be added to any massage or facial - see Aromatherapy.)
Women's Waxing
Stomach Line - $10
Toes & Feet - $10
Brows - $18
Underarm - $20
Half Leg - $28
Half Arm - $25
Bikini - $30
Brazilian - $50
Full Arm - $30
Full Leg - $55

LASH AND BROW TINT - $18

Men's Waxing
Ear Hair - $10
Toes & Feet - $10
Back of Neck - $15
Brows - $18
Half Arm - $25
Stomach - $30
Chest - $50
Back - $50
Find Out about Our Estheticians
---
---